Our Graduates Talk
More and more graduates are discovering each year that the American Brewers Guild is the first step toward realizing their goal of becoming successful craft brewers. Brewers across the country have graduated from the program confident that they made the right choice.
Justin Rodgers
Lead Brewer
Iron Hill Brewery - Voorhees, NJ
Hey, I just wanted to reach out and extend a huge THANK YOU to all the instructors who participated in the Working Brewers IBS&E course January 2015. You have provided us graduates with the proper confidence and knowledge needed to be successful in this ever growing industry! I was working as an assistant for Iron Hill Brewery and Restaurant and upon completion of the course I got promoted to Lead Brewer in Voorhees, NJ. This past week at World Beer Cup I took home a Gold Medal for "Bedotter" Belgian- Style Tripel! Still in awe that it actually happened but I just wanted to say that I am truly grateful for what you guys have done for all us alumni and the current students going through your amazing program. Keep up the great work and just know your dedication to teaching this craft keeps us inspired to continue making delicious beer. I hope you all had fun in Philly this past week.
Love always,
Justin Rodgers
---
Mark LaPierre
Brewer/Cellarman
Cigar City Brewing
The Craft Brewers Apprenticeship program from the American Brewers Guild is a great way to break into the craft brewing industry. In a field as competitive and fast growing as craft brewing, most of the job openings require prior experience or a formal education. The CBA program provided me with the necessary knowledge and skills to succeed in my internship. I was able to apply most of the concepts from the course lectures to my work during the internship, and the hands on residential week at the Drop In Brewery gave me enough familiarity with the equipment that I was able to pick up the processes very quickly. I highly recommend the CBA program to anyone looking to get into the craft brewing industry. The American Brewers Guild prepared me well enough that I ended up getting hired during my internship.
Cheers,
Mark LaPierre
Brewer/Cellar
Cigar City Brewing
---
Steve Bartholomew - June 2015 CBA
Brewer
Northern California
I am finally writing to you about my apprenticeship! I know it's been a long time
but I have made some substantial changes in my life and I have been absolutely busy as hell!

Life has been crazy and awesome from the moment I stepped foot into Drop in Brewing and the IBS&E and CBA program.

I apprenticed at Heretic Brewing in Fairfield, CA.....where I am now a full time employee! I was hired on as soon as my apprenticeship ended. I have officially moved from Connecticut to California, bringing my wife and our dog with me.

The apprenticeship itself was awesome. The guys at Heretic were so helpful and friendly. I immediately felt like part of the team. We are insanely focused on quality - which I know would make you guys proud.

We are in the midst of an expansion, and we just brought in 4 new 120 bbl fermenters. I helped with bringing them into the brewery, standing them up, and getting them hooked up to the glycol system. I have gotten some serious experience in the few months I've been here.

There are many more things I have learned in the day to day operations and I continue to learn every day.

I want to thank you guys so much for making this opportunity possible. Ron and Steve you are both fantastic instructors. Christine you were so helpful with any and every question I ever had. V was so open and cool to us even when we were invading her brewing space.

I had a lot of fun with all of my fellow students and with you instructors during our residential week. I enjoyed sharing beers with all of you guys so much. It was a huge step in my career and in my life to graduate from your program.

I can't say enough positive things about both the program and you guys as teachers and just plain awesome people.

If any of you guys find yourself in Northern California you absolutely have to come stop by Heretic.

Steve Bartholomew

Cheers to not f*$*ing it up!!

---
Jeff Erway
President
La Cumbre Brewing Co.

Hey Steve,
Just wanted to send you a quick note. Sean started here 2 weeks ago. I am on my fifth brew with him, and out of all the guild grads that I have worked with/trained (lost count now), Sean is far and away the most knowledgable. From enzymatic activity to fermentation control, his theoretical knowledge is truly stellar and it just goes to show that, if one puts their all into the program, it can be an exceptional education. It says a lot about him as a person, but it also speaks to the education that you continue to offer your students. Kuddos and cheers!

Jeff Erway, President
La Cumbre Brewing Co.

---
Phillip MacArthur
Ops Mgr/Senior Brewer
CB Craft Brewers - Honeoye Falls, NY
I am currently moving into the operations manager / senior brewer role at the brewery where I did my apprenticeship. I have just finished my MBA and am starting full time at CB craft brewers so the new role I feel will not only help put the rest of the pieces of the brewing business as a whole, but will also provide some new challenges as we try to improve efficiencies. I am ever grateful of my guild education and experience.


Cheers,

Phillip (CBA Jan 2013)
---
Jason Gasper-Hulvat
Brewer/Cellarman
Thirsty Dog Brewing Company - Akron, OH
I accepted a job this morning at Thirsty Dog Brewing Company and will be joining their team as a brewer and cellerman on Monday. I wanted to share the news as this will be my first paid brewery position and it was clear meeting with the brewmaster and owner that my training at the American Brewers Guild and the apprenticeship program made the biggest difference in my being their candidate of choice and in their willingness to bring me on as a salaried brewer rather than the hourly training position where they typically start new hires.

Best,
Jason Gasper-Hulvat
---
Jonathan Newman
Start- Up BIP
Virginia Beer Company - Williamsburg, VA
I completed the Working Brewers program last year. I just wanted to share a little anecdote and say thanks.
I've moved on from my position at SweetWater Brewing Company to join a start up project- The Virginia Beer Company in Williamsburg, VA. I was on the phone with engineers from an equipment manufacturer today, and he asked if I had an engineering degree (which I'll take as a compliment considering my English Lit degree) because I was able to have a coherent and intelligent conversation with him on the engineering concerns for my brewery, which apparently is a very rare occurrence for him.
All the credit goes to you guys and the ABG for everything I know about plant engineering, and I just wanted to say thanks for that. I'm sure I'm going to be running into many challenges getting this place off the ground, but I'm definitely well prepared for them thanks to you.
Cheers!
Jonathan (IBS&E WB June 2013)
---
Dan Ukolowicz
Owner/Brewer
Simple Roots Brewing - Burlington, VT
I graduated Summer of 2103 and now own and operate Simple Roots Brewing in Burlington, VT. My wife Kara and I are co-owners and do everything from brewing to bottling to delivery. We mainly sell 22oz bottles and only have one full time keg account (we do other kegs from time to time). We're very small - only 3 bbl but looking to double our production next year and from there who knows!
Thanks,
Dan Ukolowicz (CBA Jan 2013)
---
Matthew Richardson
Brewer - Cellar - Filtration
Lagunitas Brewing - Chicago, IL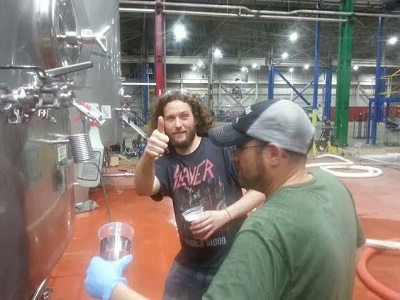 I work at the new 300,000 square foot Lagunitas production facility located in Chicago, Illinois. I work Brewhouse, Cellar & Filtration, and every Lagunitas beer east of the Rocky Mountains has my name on it in some fashion. I would not have landed the job without the ABG Diploma. A requirement for hiring consideration was a brew school education. I hope all is well, and happy holidays!
Prost!
Matthew Richardson (IBS&E Jan 2013).
---
Andrew Gioia
Assistant Brewer
Kane Brewing - Ocean Township, NJ
Hey guys just wanted to thank you guys for starting me off in my brewing career. I finished my internship at Kane Brewing in NJ and after the five weeks they hired me!! I am one of the two assistant brewers (the other is also an ABG grad Stephen Bohacik). I have been in charge of doing the lab work which is right up my ally. My notes from class have really been invaluable, I reference them constantly. Since I have been here I have been getting into some microbiology along with the other lab basics.
Thanks again guys for helping me break into this bad-ass industry. I have been talking with a few of the guys from class and we are going to try to make a pilgrimage up there one of these days to see you guys.
Have a good holiday and thanks again,
Andrew Gioia (CBA Residential - Summer 2014)
---
Evan Kopack
Brewer
Firestone Walker Brewing - Paso Robles, CA
I've been meaning to contact the ABG for some time with a status update so this is perfect timing.
Since returning back to California I interned for one month at Firestone Walker Brewing Co. Immediately after my internship I was hired on as a brewer. I'm now approaching my first year of employment in the industry and loving it! I'm currently a brew house operator with cross training in cellar operations.
My education and experience through the ABG helped make all of this possible. I appreciate everything that you guys are doing and I've had several conversations with prospective students that are interested in the program. Keep up the great work and say hello to Steve and the rest of the gang for me.
Evan Kopack (IBS&E WB June 2013)
---
Jason Ranck
Lead Brewer
Neshaminy Creek Brewing Company - Croydon, PA

I graduated from ABG in the Summer of 2013 and then completed my internship at Iron Hill Brewery. In early 2014 I landed a 12 week internship in the QA lab at Yards Brewing Company in Philadelphia, PA. At the same time I began working part time as a brewer at Neshaminy Creek Brewing Company in Croydon, PA, which led to a full time position in May of 2014. Since then I have become a lead brewer and perform all operations of the brewery including packaging (canning and bottling), cellaring, brewing and barrel aging.
Hoping to visit everyone at Drop In next year. Happy holidays and have a great new year!
Jason Ranck (CBA Jan 2013)
---
Justin Thompson
Brewer
Devil's Backbone Outpost Brewery - Lexington, VA
I'm glad to hear that everything is going well up there in Vermont, can't wait for the new alumni site. I'm also pleased to report that, thanks to my training with ABG, I have been working as a brewer with the Devil's Backbone Outpost Brewery in Lexington, VA. It's been an amazing year thanks to you guys. I wish you guys all the best!
Justin (CBA June 2013)
---
Kelsie Cole
Head Brewer
Front Street Brewery - Wilmington, NC
I can't believe it's almost been one whole year since opening my ABG binder & popping in my first lecture DVD. How time flies! As a former student of the Working Brewers Program, I had already been employed by a brewery upon enrollment to ABG.
Within the last year & a half, I've advanced from "cellar man" to assistant brewer to future head brewer at Front Street Brewery. My positions have entailed a broad spectrum of responsibilities in the brewery including transfers, filtrations, wort production, & recipe formulation. One of my most prized responsibilities at Front Street has been managing our Wort Shop, a small-batch experimental series released once each month. The Wort Shop has seen its greatest success within the last few months & I take great pride in using my creativity to produce each month's featured release.
As for my future at Front Street, I've recently been promoted to Head Brewer. Our current Head Brewer, Kevin Kozak, has granted me this new position, allowing me to share responsibility for all major brewing operations from placing malt orders, filing tax & waste water reports to scheduling & continuing to manage the Wort Shop.
Needless to say, the last year and a half has been one thrilling roller coaster ride. I thank you & the rest of the Guild staff for giving me such a great opportunity to invest in myself & my career. I look forward to seeing what my other former classmates have been up to!
Happy Holidays,
Kelsie (IBS&E Working Brewer Jan 2014)
---
Kevin Paquette
Denver, CO
Making the decision to change my career and open my own brewery is a daunting task. However, the education I received at the American Brewers Guild in the Intensive Brewing Science & Engineering, Brewery In Planning program has had a profound impact on my ability to succeed. The opportunity to learn from some of the leaders of craft brewing over the course of the program and the depth of information I received is second to none. Steve and the faculty of the ABG have developed an in-depth curriculum that has given me a base of knowledge that not only has given me the skills necessary to truly craft beer but the confidence I will be able to compete in the crowded Colorado market. My advice to anyone serious about starting his or her own brewery is take this course.
---
Tudor A. Montague
Mesa, Arizona
Steve, Christine and the rest of the "Brew Crew", first of all…wow! The Intensive Brewing Science and Engineering Program has been an invaluable part of my experience in the professional brewing world. You provide us with a wealth of knowledge and expertise in the lecture series which is then greatly augmented during the last week spent at the brewery itself. The last week really brought together all of the concepts and ideas that were presented throughout the lecture series, and I had many "ah-ha!" moments during this time. Lastly, the instructors that you bring in during the residency week were just as passionate in teaching and sharing their craft as those of us who attended your course. THANK YOU for providing us with this opportunity!
---
Sean Harris
Brewer
Broken Drum Brewery and Wood Grill, San Rafael, CA
After a number of years working in scientific research I began looking in to an alternative career choice, one that would allow me to use more creativity and eventually get me back home to New Zealand. As an inexperienced homebrewer I discovered the ABG website and after some thought enrolled in the Craftbrewers Apprenticeship Program 3 days before the course began, rather late!
The correspondence format allowed the material to fit in to a flexible schedule, but with many interesting magazine and scientific articles as well as the brewing text books, I found the information was there to pursue to the level and time commitment I desired. The course struck a good balance of the technical biochemistry and engineering concepts with the practical material and provided a thorough brewing education. I felt well equipped to move in to a brewing position with the knowledge I had gained. The hands-on experience provided by the internship served to reinforce that.
An excellent experience with knowledgeable, friendly and helpful faculty and staff. A must-do course for those serious about pursuing a craftbrewing career.
---
Chris Goehe
General Manager
Broken Drum Brewery and Wood Grill, San Rafael, CA
I enrolled in ABG after interviewing with several brewers who had taken the course and had great praise for Steve's class. Living in the Bay Area I was glad to notice many of the head brewers are ABG graduates.
The online course was a perfect way to study while keeping my day job and I feel the longer course duration gave me more time to really review the materials more than once.
I was lucky to be hired by Arne Johnson at Marin Brewing Company, (who would later be known as Arne Brau Kenobi, my Jedi beer master), just a few weeks into the course. I had chosen MBC for my apprenticeship brewery, and Arne needed some help doing cellar work and running the bottling line so I was actually employed there during my ABG session. After completing the course and my apprenticeship, I worked a couple of nights a week on the bottling line and eventually started brewing and filtering one day a week at MBC. I also moved from the brewery onto the floor as a food server and then shift manager at both MBC and it's sister company Moylan's. I am now the general manager of Broken Drum Brewery and Wood Grill in San Rafael. I am lucky to have a recent graduate as our new head brewer. We have already joined forces creating several new recipes.
The "live" week of the course was the most fun; finally putting faces to the chat text and hanging out with a bunch of beer geeks in search of knowledge and the perfect pint. I will never forget the face of Chris Carter, who was coming from 3.2 Utah, as he sipped his first Guinness or Steve Parkes being set loose at the taps during our private tour of Anchor Steam Brewery. (Both pics are on the guild's alumni site of 2000 fusty class photos.)
The pictures are of my last brew at MBC (Mt. Tam pale) and cleaning the fermenter.
Thanks and Cheers ABG!
---
Stephen Magill
Montpelier, VT
Tomorrow morning (Monday), I start my five-week apprenticeship at the Vermont Pub and Brewery. This is the final part of my class, the Craft Brewers' Apprenticeship Program. The first part was five months of academic work in brewing science and engineering, through distance learning. Each week I had five to eight hours of recorded lectures on DVD that I had to watch, followed by some self-graded homework. There were also two exams, each with a section on brewing and a section on engineering.
The next part of the class was the residential week in Middlebury, where the school (the American Brewers' Guild) is based. Affectionately called "Beer Camp" by me, this was hosted by Drop In Brewing, which is the headquarters of the Guild. The residential week had the students working in the brewery at brewing beer, filtering beer, doing work in the brewery lab, and learning how to evaluate beer for faults. The last day of the residential week started with our final exam, and finished with a graduation ceremony. The whole week was a fun learning experience spent with other aspiring brewers and some inspiring teachers.
---
[Chris wrote this to a perspective student] Mark, The ABG greatly enhanced my credibility and expanded my career options in the fields of brewing and brewing science. As a recent graduate, I have had a successful and enjoyable beginning to my career, which clearly would not have been possible without my studies with the ABG.
The added value of a diploma from the American Brewers Guild is the prestige of a diploma from the nation's best brewing schools. The ABG is highly regarded for its commitment to excellence in education.
The classes are set up to offer you flexibility with learning with part of the course offered as correspondence and part as on campus studies along with an apprenticeship. You also have the opportunities to interact with other ABG students and the professors. The small, personalized environment allows everyone to be available almost full time and attentive to your individual needs.
Without hesitation I suggest that you contact the ABG staff for more information regarding the courses available and how they can work for you.
Regards, Chris
---